The first time you visit Newport Beach, you may wonder if you have finally discovered paradise.
Located approximately 50 miles south of Los Angeles and 85 miles north of San Diego, it has a temperate, Mediterranean climate that provides for great outdoor living year round and an average of 340 sunny days each year.
Home to Newport Harbor, the world's largest, and pleasure boat harbor, Newport Beach is also home to several yacht clubs including the Newport Beach Yacht Club, the Newport Harbor Yacht Club, Bahia Corinthian Yacht Club and Balboa Yacht Club.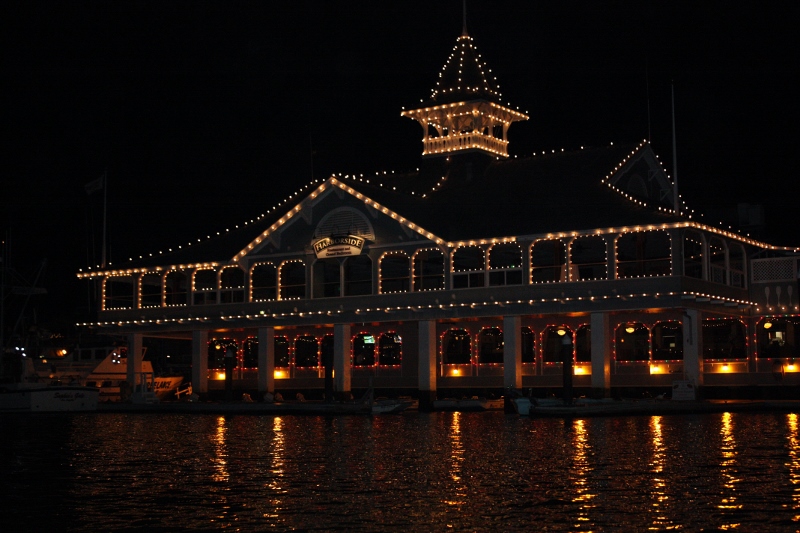 Many visitors enjoy spending time on the five-mile long Newport/Balboa Peninsula, which ends at the jetty known as the Wedge, which is famous for its body surfing.
In addition, the Peninsula also features the Balboa Pavilion (pictured above), the Fun Zone (featured in the video below), the Balboa Ferry, the Newport Pier, the Balboa Pier, harbor cruises, sports fishing and trips to Catalina on the Catalina Flyer.
Newport is also home to several public and private golf courses, including the Newport Beach Country Club (which hosts the PGA Tour), the Hyatt Newport Back Bay Golf Course and the world class Pelican Hills Golf Course with two separate courses, and Big Canyon Country Club.
In addition, there is world class shopping at Fashion Island and nearby South Coast Plaza as well as additional cultural opportunities at the world renowned South Coast Repertory and the Orange County Performing Arts Center in Costa Mesa.
Newport Beach has numerous communities including:
Corona del Mar
Dover Shores
Bay Shores
The Castaways
Balboa Island
Balboa Peninsula
and seven islands that have are home to some of the most expensive real estate in the world.
These islands are Lido Isle, Collins Island, Linda Isle, Balboa Island, Little Balboa Island, Bay Island and Harbor Island, with many of these homes being bay front. Real estate has come a long way in Newport Beach since it began in 1906.
Back then, bay front houses sold for as little as $500. Today, homes in this area are priced in the millions of dollars as the area is considered prime, Pacific Coast property.
For those looking for a home along Orange County's Gold Coast, Newport Beach real estate offers choices for a variety of homebuyers.
Luxury homes on the sand, bayside estates with yacht slips, elegant town homes are all possibilities in Newport Beach.

Please see below for Newport Beach homes for sale. If you have questions about selling or buying a Newport Beach home, please contact Christine Donovan at 714-319-9751.
[spatialmatch_map id=13 width=500]