Lido Isle – Home on the Bay
Lido Isle, sometimes mistakenly called Lido Island, is a lovely community in Newport Beach. This man-made island is home to nearly 1800 people and has approximately 850 homes, which is located in the middle of Newport Bay, has approximately 25% of its homes on the water. Access from Newport Beach is via a short bridge.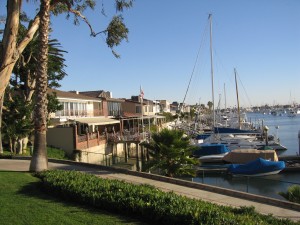 The Newport Bay, better known as Newport Harbor, is the one of largest and finest pleasure yachting harbors in the world, and Lido Isle takes full advantage of its location on this beautiful harbor.
In addition to its natural amenities, including its temperate, Mediterranean climate, Lido Isle residents are also members of the Lido Isle Community Association which offers a clubhouse with a private beach on the bay, tennis courts, boat dock, boat storage areas, playgrounds and a snack bar. The beach has a swim float which is a perfect place to take a break and sun yourself. The Lido Isle Yacht Club is the social center of the community and was incorporated in 1928.
In addition to being a lovely place to live year round, Lido Isle also offers a perfect place from which to watch the annual Newport Beach Christmas Boat Parade.
Lido Isle was one of the first master planned communities in California. In 1923, W.K. Parkinson purchased a sandbar, then known as Huntington Island, and spent over $250,000 dredging the surrounding harbor and creating the island. When the dredging was complete, the island was renamed Lido Isle in tribute to Lido di Venezia. The plan was to create a Mediterranean themed resort, and the style of most of the homes on the island today still reflects this.
Although only 50 homes and been built on the island by the end of World War II, the post war boom brought many people happy to make their home on this unique island, which has an average lot size of 3,500 square feet.
Children of Lido Isle attend schools in the Newport Mesa Unified School District – Newport Elementary, Horace Ensign Middle School, and Newport Harbor High School.
For homes currently for sale on Lido Isle, please see below.
We're sorry, but there's nothing to display here; MLS data service is not activated for this account.