Costa Mesa Real Estate – Eastside Costa Mesa Homes News
Eastside Costa Mesa is a charming area of Costa Mesa that borders Newport Beach, resulting, in a tendency towards higher property values than some other areas of the city. It is bounded by Irvine Boulevard on the east, Newport Boulevard on the west, 15th Street on the south and Mesa Drive on the north.
Many of the original lots in Eastside Costa Mesa are around 10,000 square feet, a large size lot in Orange County, allowing for space to expand smaller, older homes if desired.
Eastside Costa Mesa is known for wide streets and lovely, mature trees, homes with picket fences and an eclectic mix of different types of homes.
The current real estate market report for Eastside Costa Mesa Real Estate is below: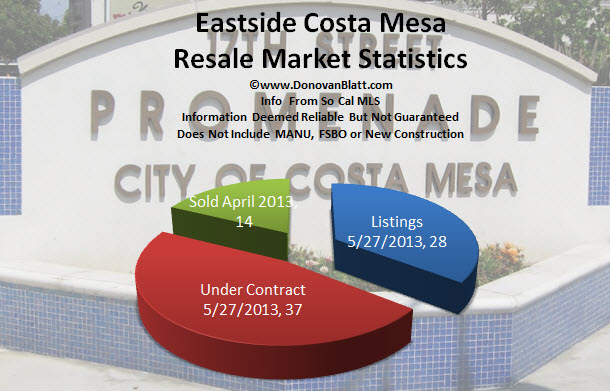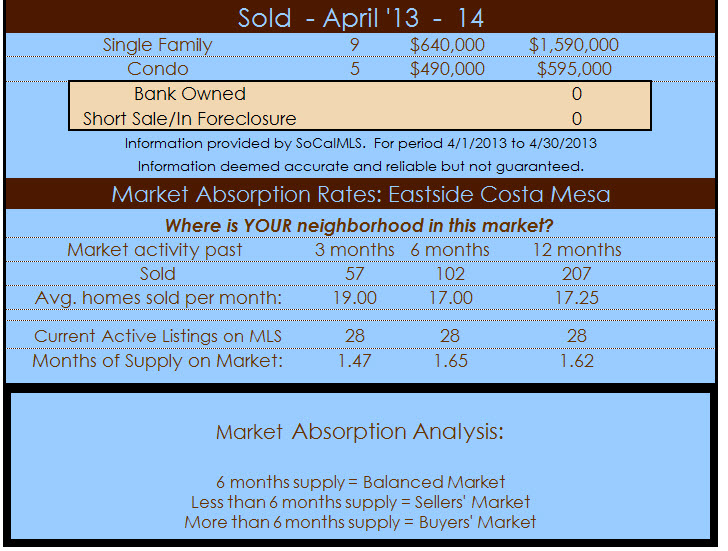 There is extremely low inventory currently on the market, resulting in only 1 1/2 months worth of homes for sale in today's real estate market.  This means that it is a very strong sellers' market with many (though not all) homes selling over listing price with multiple offers.  The more desirable a home, the better it is priced, and the closer to the lower or mid range, the more likely it seems to be to garner multiple offers.
Today, there are less than half the number of homes for sale in Eastside Costa Mesa than there were just two years ago though the number of sales per month is nearly the same.  Thus, sales are brisk, and it is potentially a good time for sellers to sell their home.
Please contact Christine Donovan at 714-319-9751 to discuss the current value of your Eastside Costa Mesa home and its current value to decide if it might be time to take advantage of this sellers' market.
Click the map below to see homes currently for sale in Eastside Costa Mesa.
[spatialmatch_map id=4 width=500]