Duffy Boats of Newport Beach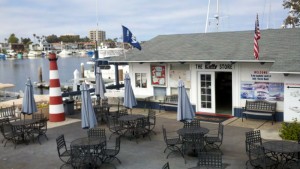 Duffy Boats of Newport Beach bill themselves as "The first and finest electric boats since 1970", and the truth is….exactly that. Duffy Boats are well known throughout Southern California as being a fun, inexpensive and environmentally friendly way to enjoy the waterways of Orange County's harbors and canals.
Located along Pacific Coast Highway in Newport Beach, Duffy Boats offers rental rates that won't hurt your wallet and lasting memories that are priceless. The boats are completely electric powered, offering quiet, earth saving cruising for the whole family. Each boat features a full canopy with windows and a CD player with ipod hookup so that you can let the good times roll. The best part about Duffy Boats is that they are extremely easy to pilot and no special license is required!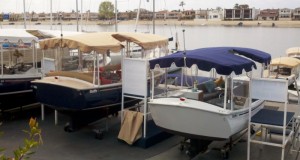 And, for those who are fortunate to have a dock along the harbors and canals, Duffy Boats are available for sale with sizes ranging from 14′ to 24′. The sales prices for these fine vessels are far less than most potential buyers would spend on a car, which I think is quite affordable for the amount of low maintenance, zero emissions fun these boats can provide.
If you are considering renting a Duffy Boat for an afternoon in Newport Harbor, be sure to call ahead as reservations are highly recommended. Be sure to also ask them about the 'scavenger hunts' that they can set up for you and your party that are sure to increase the potential for fun and frolicking.
Duffy Boats is located at 2001 W Coast Highway, Newport Beach, CA 92663 (949) 645-6812