Fairview Park Costa Mesa
Fairview Park is a 208 acre park located off of Placentia Avenue next to Estancia High School and is almost at the end of the Santa Ana River Trail.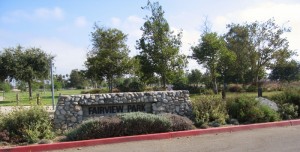 Aside from being a great place to just bike, this park offers many incredible amenities. It has room up top for kids to run and fly kites, kick soccer balls, and generally have a great time. 
In the summer Fairview Park hosts Costa Mesa's Free Concerts.  In addition, there is an area to fly remote controlled airplanes.  There are also hills for mountain biking and jumping.  With 208 acres, there is lot of space in Fairview park for everything from walking your dog, to flying your RC plane, to riding model trains, to just getting out and expending some energy and enjoying a beautiful day.  In addition today's activites, the park was once home to The Indians of Lukup.