Goat Hill Junction Model Trains and Santa – 12/15/12 and 12/16/12
Santa will be at Goat Hill Junction on December 15th and 16th, 2012 between 10:30am and 2:30pm.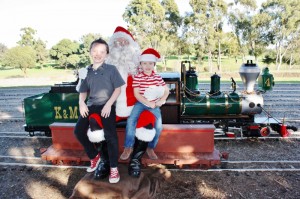 There will be unlimited, free train rides and a donation of $5 for a picture of Santa. You may also use your own camera for a donation. Don't forget to ask them to take a picture if you would like to be in the picture with the rest of your party.
Santa has a great back drop with one of the miniature engines all decorated for Christmas at North Pole Station.
Goat Hill Junction is located at 2500 Placentia Avenue and is across the street from Estancia High School and Fairview Park.