Lido Theatre – Newport Beach
The Lido Theatre is one of just a handful of art deco theatres in Orange County that are still in use to this day.  It opened in 1938 with the Bette Davis film "Jezebel"; since then the Lido Theatre has become one of the most recognizable landmarks in Newport Beach. While other storefronts and homes are constantly updated, the Lido Theatre still features the rare tile work and box office of days gone by.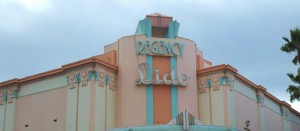 Located just around the corner from Lido Village and on the entryway to Lido Isle, the theater is really the centerpiece of the idyllic lifestyle for which Newport Beach is so well known. With features such as a lady's sitting room, ticket box office, the red velvet curtains, and lack of pre-show advertisements, the Lido Theatre offers an experience unlike any other.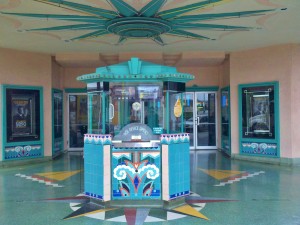 While the Lido Theatre is small by today's mega-plex standards, it does seat 600+ with nearly a third of those seats located in the balcony section. Once the curtain goes up though, movie aficionados will be thrilled with the experience because the owner's of the Lido Theatre, Regency, have installed one of the best sound systems to be found anywhere in Southern California.
Although the newest blockbusters can sometimes be seen at the Lido Theatre, the theatre is well known for featuring independent movies and foreign films. The theatre is also a great place to see the premiers of movies featuring surfing and other similar activities due to its proximity to the beach.
You will also find that the Lido Theatre's aesthetics aren't the only reason to visit. Patrons are greeted as they enter the theatre, and thanked as they depart by being offered mints!
The Lido Theatre is located at 3459 Via Lido (Via Lido and Newport Blvd), Newport Beach, CA 92663. You can contact the box office for more information at 949-673-8350. The box office is open 15 minutes prior to the first show and closes 15 minutes after the last showing begins.