My Galley – Newport Beach Coffee Shop
Heading out early to catch some waves before the crowds? Maybe you're heading to The Wedge on a cold day to see the waves crashing on the jetty? If you find yourself on the Balboa Peninsula in Newport Beach, CA in the morning and need a hot cup of coffee or a warm breakfast, My Galley is a great place to stop in and warm up.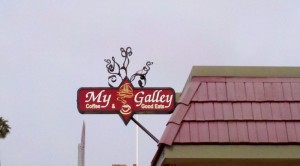 My Galley is a nice neighborhood coffee shop that features fresh brewed coffee and plenty of specialty coffee drinks, teas, and even smoothies. Along with the drinks, My Galley also offers an array of bagels, muffins, breakfast burritos, oatmeal, breakfast sandwiches, and a special ground turkey chili that is great to enjoy after playing in the surf. My Galley is also open through lunch, so their menu includes sandwiches like the Club, BLT, burgers, and even PB&J.
If you don't see exactly the combo of flavors that you like on the menu, they also have the 'Your Way Sandwiches' option so you can build your own. All of the ingredients are very good quality, including chicken and tuna salads that are made only with white meat.
Located at the intersection of Island and Balboa Blvd, My Galley is very convenient to stop at no matter if you are heading out to the beach, out to work, or just getting back home. My Galley is also located just across Island Avenue from the Balboa Library so be sure to take the kids over to check out some books after they enjoy their PB&J's.
My Galley is located at 500 West Balboa Boulevard, Newport Beach CA. You can also reach them at 949-375-4355 if you'd like to order ahead.
Originally published at My Galley.