Newport Beach Parks – Cliff Drive Park
Newport Beach is very well known for it's stunning beaches and beautiful homes.  What many visitors don't know is that it also features a number of small neighborhood parks, each with their own unique identity.  One of Newport Beach's parks that I find to be enjoyable is Cliff Drive Park.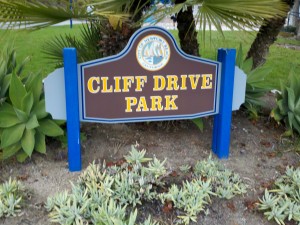 This terraced park is a great place to get some exercise while walking the many steps from the bottom along Riverside Drive to the top along Cliff Drive.  The park is very lush with several lawns along the terraces where one can play with the kids or dogs, or have a small picnic.  Cliff Drive also offers nice views of the city of Newport Beach and the Pacific Ocean beyond.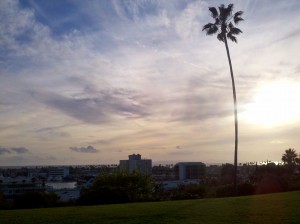 If you need a place to relax in the morning, be sure to grab a coffee along PCH and then head to Cliff Drive Park to sip and enjoy the scenery as the world goes by.
Cliff Drive Park is very dog friendly too! There are often many breeds being walked along the paths and even dog training classes on the lawns on some afternoons. Keep in mind that Cliff Drive Park features quite a few steps up and down the hill side, so those older pups may be better off just enjoying the lawn areas around the top of the park along Cliff Drive.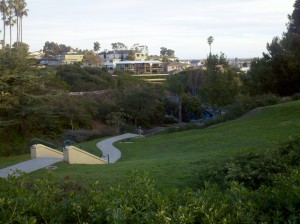 If you're bringing the little ones to the Cliff Drive Park (I'm talking about the kids now, not the dogs!) there is a great sailboat themed jungle gym on the park's lowest terrace alongside Riverside Avenue.  This fun attraction is located next to the half basketball court and restrooms, so it's a very convenient place to hang out with your children.  I've always found Cliff Drive Park to be clean and well maintained and would not hesitate to bring my kids here for some good outdoor exercise.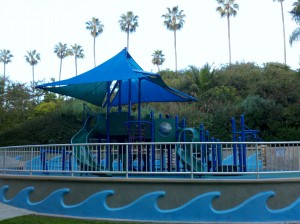 Cliff Drive Park can be accessed from several points along its winding exterior.  There is some parking along Riverside Avenue to the south at it's lowest terrace but most of the available parking is along Cliff Drive to the park's winding upper terrace.
Cliff Drive Park's address is 301 Riverside Avenue, Newport Beach, CA.