Newport Beach Real Estate News – Versailles Homes Report – 4-9-11
Newport Beach Real Estate News – Versailles Homes Report
The Versailles is a lovely community located adjacent to Superior Avenue and Hospital Road, only a few blocks from the ocean next to Villa Balboa and across Superior Avenue from Newport Crest.
The homes are available in studio, one, two and three bedrooms models and were built in the early 1970s. Many of the homes come with ocean and Catalina view, enhanced by large windows and private balconies.
This community is well located, being walking distance to the beach, next door to Hoag Hospital, minutes from shopping and restaurants on 17th Street and Newport Boulevard and only 15 minutes from both South Coast Plaza and Fashion Island.
If you are looking for a home that is close to the beach and convenient to freeways and shopping, you may have found just the right home.
 The market report for the Versailles is below: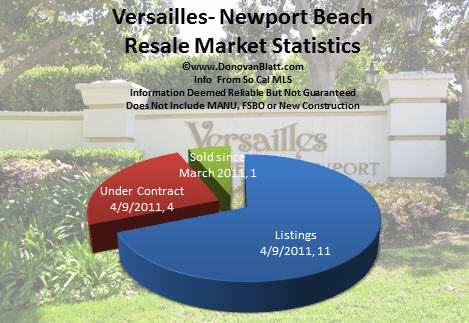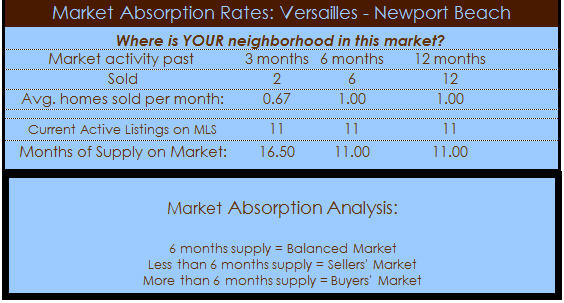 There are a significant number of homes for sale in the Versailles,  especially in comparison to the time it currently takes for them to sell, making it very much a buyers' market in the Versailles.
To see homes currently for sale in this community, please click Versailles homes for sale.
We're sorry, but it seems that we're having some problems loading MLS data from our database. Please check back soon.
For homes reports for other communities, please see below:
Mesa Verde Costa Mesa Real Estate Report
South Coast Metro Costa Mesa Homes
Huntington Beach Real Estate News
Newport Beach Real Estate News
Fountain Valley Real Estate News
Balboa Peninsula Real Estate Report
Newport Heights Real Estate News
Balboa Island Real Estate News
Newport Crest Real Estate News
Newport Shores Real Estate News
Copyright © 2011 by Christine Donovan, All Rights Reserved. Newport Beach Beach Real Estate News – Versailles Homes.
_______________________________________________________________________
About the author: Christine Donovan is a California Residential Real Estate Broker with
experience in assisting clients buy and sell residential real estate.
Contact me for a free list of Orange County foreclosures or a free list of Orange County short sales
Are you upside down in your home? Is it worth less than you owe? Are you concerned about making your mortgage payment? Contact me at 714-319-9751 to discuss your options.
Want to buy a home or to list your property for sale in Newport Beach? Contact me at 714-319-9751 to learn about my system which will make your buying and selling experience easier.
Disclaimer: All information in this blog is deemed reliable but is subject to change at any time and is not guaranteed to be accurate nor are there any warantees either express or implied. This blog is not intended to offer any legal, tax or other advice.
Tweet