Newport Beach Whale Watching Tours
Do you enjoy being out on the water?  Do you like to observe marine mammals?  If you answered yes to both of these questions, then Newport Beach whale watching may be the perfect activity for you.
From December to April is a great time to go whale watching as it is the primary migration period for the grey whale.  This migration brings hundreds of these whales to just outside the Newport Harbor. 497 grey whales were spotted on Newport Landing boats in 2010.  Davey's locker reported 418 grey whales in 2010.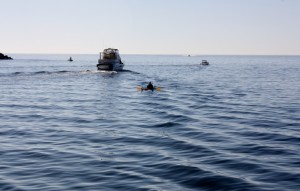 I remember taking several Newport Beach whale watching trips as a child with my mother and my sister.  I think the experiences are indelibly imprinted on my brain.  These trips frequently involved sightings of both whales and often pods of playful dolphins.  Seeing these animals is a great experience and well worth the trip.
Both Newport Landing and Davey's Locker offer whale watching trips. Newport Landing offers four trips per day, and Davey's Locker offers three each day.  They are both located near the Balboa Fun Zone along the bay.  They each offer several trips every day.  Prices for Newport Landing and Davey's Locker are currently $30 for adults, and $25 for juniors (under 12) and seniors (60+ years).  Davey's Locker is located at 400 Main Street, Balboa, California –  (949) 673-1435.  Newport Landing is located at 309 Palm Street, Newport Beach, California –  (949) 675-0551.
Originally published at Newport Beach Whale Watching.