Newport Burgers
Newport Burger is a history lesson wrapped in a greasy bun, largely shunning the working out fitness lifestyle with which most people paint Southern California. This family-owned restaurant has been THE burger joint for Newport Beach residents for more than 25 years. Owned by a great couple, Newport Burger is open from 730am (or so) to 330pm (or so), literally, so be warned! If you're in the area and want a burger or something similar, this is a much more interesting restaurant than the fast food stands along Newport Boulevard.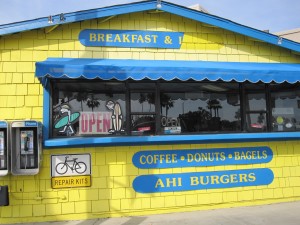 The menu at Newport Burger features a wide selection of burgers, fries, breakfast and other fare that will cost you a few more minutes on the treadmill, but will be worth it. The food is fresh and honest, and will leave you wanting more! The prices are great too. While Newport Burger's name is very specific, their breakfast burritos are well known and truly appreciated by locals. And, if you're really looking for something healthy, there are a few choices on the menu, like the ahi burger.
I've enjoyed eating at Newport Burger for many years, since I was a little girl living in Newport Shores.
Historical Newport Beach pictures adorn the walls, making Newport Burger the de facto neighborhood historian. I don't know why, but I really enjoy looking at the historic photos of Southern California communities to see how they were! Located on PCH, at the North end of Newport Beach this is a great spot to grab your breakfast or lunch before going to the beach. Just a few blocks to the North on Pacific Coast Highway, you can enjoy the wide beaches and gentle waves around the Santa Ana river bed separating Newport Beach and Huntington Beach.
Newport Burgers is located at 6800 West Coast Highway, Newport Beach, CA 92663. Call ahead for hours or further information, 949.642.5881.