Orange County Distressed Sales Update
It's probably no surprise to most that Orange County home prices had a huge decline in the last few years.  At one point, the median fell almost 35% from the high in 2006 of over $627,000 to approximately $415,000 in 2009.
Along with the decline, came a steep rise in the number of distressed sales in Orange County.  We have broken down distressed sales in to three distinct categories –
REOs/foreclosure/bank owned homes – also known as real estate owned
Short sales – which includes those that are listed as short sales and homes that are in the foreclosure process or have had a notice of default filed
Other distressed sales – including bankruptcies, probate sales and auctions.
As you will see below, the short sales make up a large percentage of homes that sold in 2010, approximately 42% of all homes that sold in 2010 in Orange County were distressed, and approximately 25% of all homes sold in Orange County in 2010 were short sales.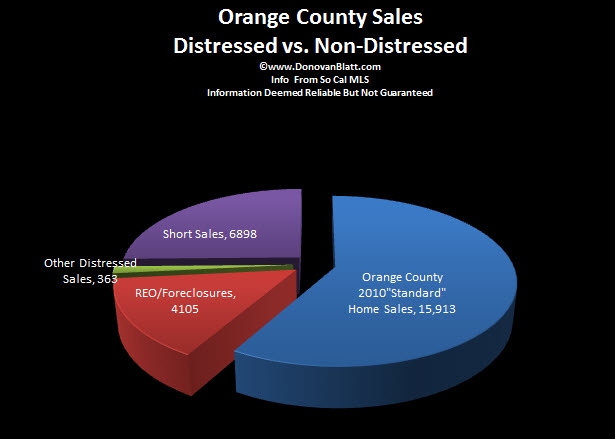 The numbers are even higher for distressed sales when viewing homes that sold for less than $500,000. Of these homes, approximately 51% of all homes sold were distressed; 31% were short sales, and 19% were foreclosures.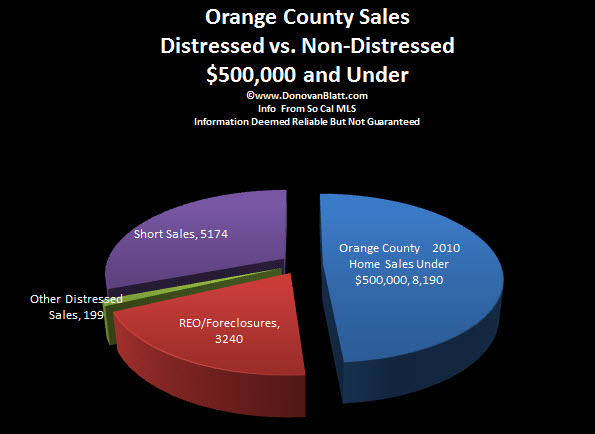 Given these numbers, it is apparent that the Orange County market will continue to carry distressed sales for some time to come. Therefore, if you are considering buying or selling an Orange County home, it is important that you speak with a real estate professional who is knowledgeable about short sales.
We have succesfully helped buyers and sellers with short sales and foreclosures.  If you have questions about buying or selling in the current Orange County homes market, please give me a call at 714-319-9751.
Numbers are believed to be accurate but are not guaranteed and are per Dataquick and SoCalMLS.
Originally posted at Orange County Homes.