Saddle Ranch Chop House Costa Mesa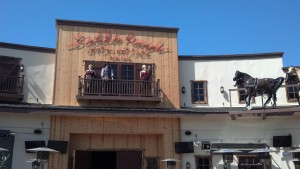 Saddle Ranch Chop House has just opened in the new, revamped Triangle Square in Costa Mesa, located at the corner of 19th St. and Newport Blvd. just south of the end of the 55 Freeway.
It has a large patio area and is decorated with mannequins dressed in western dress with cowboys and saloon girls along with a stagecoach.  It looks like fun, and we're hoping to try it soon.  It appears that this restaurant is a small chain with a few locations in California and Arizona.
Saddle Ranch offers its meals in a rock and roll atmosphere along with mechanical bulls and refers to itself as "Rock meets Western"
They even allow customers to make their own s'mores over their firepits, which I'm looking forward to trying with the kids what a great way to finish a meal. Though it may be difficult to pick from all of the choices on the menu which seems to have something for everyone.
For more information, please see Saddle Ranch Chop House.