Snoopy House at Costa Mesa City Hall Grand Opening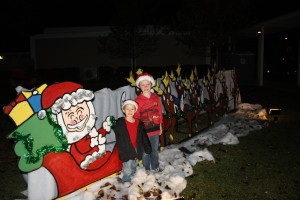 For the second year, the City of Costa Mesa City Hall hosts Snoopy House.
This year, Peanuts' creator Charles Schulz's daughter, Jill Schulz, will be the grand marshal for this year's grand opening of the Snoopy House. The grand opening is set for December 14, 2012 at 5pm and will feature a visit from Santa and from Snoopy. There will also be food trucks.
The display has all of the old favorites that were part of the Peanuts' House at Jim Jordan's home for 40 years as well as a new light show on the City Hall building.
As usual, Santa will visit the Snoopy House from 7pm to 9pm from December 18-23. To take pictures and hear the wishes of children.
Though Snoopy House may have a new location, Jim is still there visiting with the guests and enjoying the joy he has created in others for the past 45 years. Talking with this gentleman who has brought his magic to so many, makes it obvious just how warm and caring he is. He started the display when he was only 14 years old and has continued it until today.
Snoopy House will be at City Hall from December 14 through December 24th each evening from 5pm to 9pm.
As always, there is also free cider, and if you're so inclined, you can stop by and pick up a t-shirt.
For more on Snoopy House see:
Peanuts House Eastside Costa Mesa
Peanuts House Christmas Display
Originally published at Snoopy Moves to City Hall.