Top 5 Things to Do in Costa Mesa with Young Kids
There are so many things to do and see in and around Costa Mesa that this is a tough list for me to compose.
I think it depends on what your interests are and the age of the person.
For this list, I will post my list of the top five things to do with young children if you live in Costa Mesa.
I have a 4 1/2 year old and a 6 month old and am often looking for small, enjoyable family outings in the local area and have included my favorites below.
5.  Goat Hill Junction Free Miniature Train Rides – Located in Fairview Park, these miniature trains run every third full weekend of the month from 10am to 3:30.  The club members operate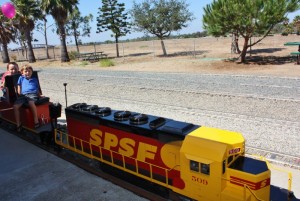 more than 40 steam powered miniature trains and take people on approximately 15 minute rides.  Although rides are free, they do accept donations.  There is a gift shop and a snack bar, and they have birthday parties available as well.  To ride, a child must be able to sit on his own.
4.  Carousel ride at the Balboa Fun Zone, South Coast Plaza or Fashion Island – There is a ton of shopping available in and around Costa Mesa with the two largest and best known being South Coast Plaza and Fashion Island.  Although most young children do not enjoy shopping, I have found I can increase enthusiasm by including a carousel ride at either mall.
3.  Go to the Park – There are 29 parks, plus additional recreational areas, in Costa Mesa alone.  There are playground with all of the typical equipment.  There is the Volcom Skatepark.  There is Fairview Park where you can fly remote control airplanes, walk your dog or jump hills on your bike.
2. Go to the beach – We live minutes from one of the most beautiful beaches in the world.  Take advantage of it.  Play in the waves, build a sand castle, dig for sand crabs or simply take a walk along the shore.
1.  The Fun Zone – Located on the Balboa Peninsula, the Fun Zone includes many kid friendly attractions including a ferris wheel, the Newport Nautical Museum, and arcades.  You can take the Balboa Ferry over to Balboa Island and incorporate time on the water into your outing. If you're inclined, you can even get a Balboa Bar – an ice cream bar, dipped in chocolate and rolled in your choice of chocolate sprinkles, rainbow sprinkles or nuts.
See Costa Mesa or Newport Beach for more information about either city.
For more information about  relocating to Costa Mesa, California and what a great place it is to live, please see Costa Mesa Real Estate.