Stroll the Balboa Boardwalk – Balboa Peninsula, CA
The boardwalk runs from 36th Street all the way down to F Street.  There are several areas with food along the way at the Newport Pier, the Balboa Pier and 14th Street, just before (or after) Newport Elementary.  There are also plenty of little shops to enjoy during your stroll.
If you're ooking to enjoy a beautiful day in Newport Beach, why not take a stroll down the boardwalk on the Balboa Peninsula and enjoy a little exercise with your weather?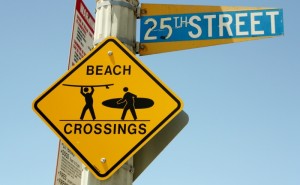 You might consider stopping at Pipeline at the Newport Pier for a Balboa Bar, or maybe you'd like to rent a boogie board and hit the surf for an hour.  Whatever strikes your fancy is likely available if it's a beach type activity – rent some roller blades or a bike and head on out if walking isn't your style.
Regardless of what you choose, I'm sure you'll enjoy your trip down the boardwalk along the
My children love to stop at what they call the Beach Park, better known as Newport Elementary, a school that is located along the sand.  What else would you expect in Newport Beach?
What is your favorite thing to do along the boardwalk?