Costa Mesa Homes
Costa Mesa Real Estate Market Report
Originally no more than a way station built by Spanish missionaries, Costa Mesa's first real estate development occurred in the 1880s. This failed to prosper, but Costa Mesa has flourished.
Long time residents may remember when the area was called Fairview and Paularino, but today, the city is a focal point in Orange County with the Orange County Performing Arts Center, South Coast Repertory Theatre and South Coast Plaza as major drawing points. It is hard to believe that Costa Mesa was once nicknamed "Goat Hill" because of its rural flavor.
Modern day Costa Mesa real homes began as beach bungalows just minutes from the ocean. Even then, Costa Mesa, bordering Newport Beach, captured the best of Newport Beach living at a fraction of the cost. While Costa Mesa may be more affordable than comparable homes in Newport Beach or Corona Del Mar, this is a relative matter as all of Orange County real estate is perceived to be some of the most desirable in the United States.
The market report for Costa Mesa homes is below: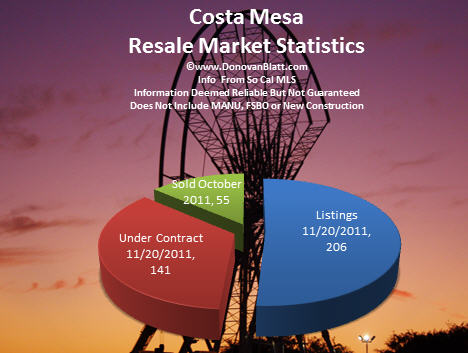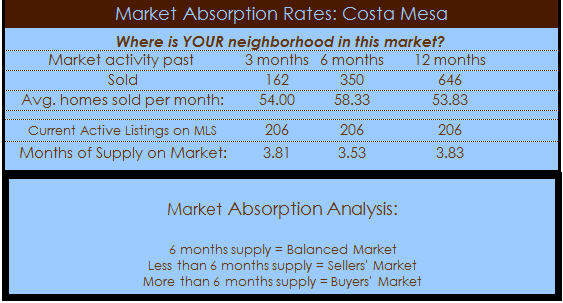 Costa Mesa is currently in a seller's market with less than 6 months inventory on the market.  There are also slightly fewer houses for sale than a few months ago, which may be a result of having the holidays fast approaching.
If you would like more information about buying and selling Costa Mesa homes, please contact me at 714-319-9751.
Please the homes currently for sale in Costa Mesa below:
We're sorry, but there's nothing to display here; MLS data service is not activated for this account.
Market reports for additional areas of Costa Mesa and nearby cities:
Copyright © 2011 by Christine Donovan, All Rights Reserved. Costa Mesa Homes.