Newport Beach Real Estate News – Versailles Homes Report
The Versailles is a lovely community located adjacent to Superior Avenue and Hospital Road, only a few blocks from the ocean next to Villa Balboa and across Superior Avenue from Newport Crest.
The homes are available in studio, one, two and three bedrooms models and were built in the early 1970s. Many of the homes come with ocean and Catalina view, enhanced by large windows and private balconies.
This community is well located, being walking distance to the beach, next door to Hoag Hospital, minutes from shopping and restaurants on 17th Street and Newport Boulevard and only 15 minutes from both South Coast Plaza and Fashion Island.
If you are looking for a home that is close to the beach and convenient to freeways and shopping, you may have found just the right home.
The market report for the Versailles is below: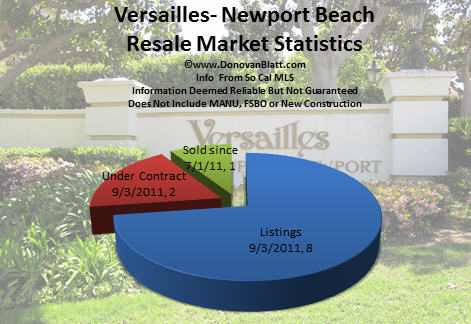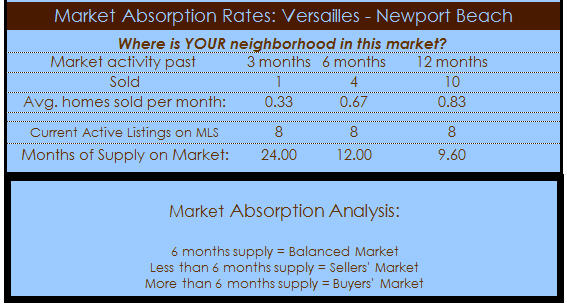 The marketing time for Versailles homes has increased significantly in the last few months.  Based on the sales in the last 3 months, there is 2 years of inventor on the market,though taken over the longer view of a year there is only nearly 10 months of inventory.
To see homes currently for sale in this community, please click Versailles homes for sale.
We're sorry, but there's nothing to display here; MLS data service is not activated for this account.
For homes reports for other communities, please see below:
Copyright © 2011 by Christine Donovan, All Rights Reserved. Newport Beach Beach Real Estate News – Versailles Homes.