Costa Mesa Real Estate – Eastside Costa Mesa Homes 1-14-12
Eastside Costa Mesa is a charming area of Costa Mesa which borders Newport Beach, and, as a result, tends to have higher property values than some other areas of the city. It is bounded by Irvine Boulevard on the east, Newport Boulevard on the west, 15th Street on the south and Mesa Drive on the north.
Most of the original lots in Eastside Costa Mesa are around 10,000 square feet, a large size lot in Orange County, which allows for space to expand smaller, older homes if desired. Many of the lots have been cut up with more homes or condos replacing the older homes.
Eastside Costa Mesa is known for wide streets and lovely, mature trees, homes with picket fences and an eclectic mix of different types of homes. It also has 17th Street, Triangle Square and Costa Mesa Courtyards nearby for shopping and restaurants.
The current real estate market report for Eastside Costa Mesa Real Estate is below: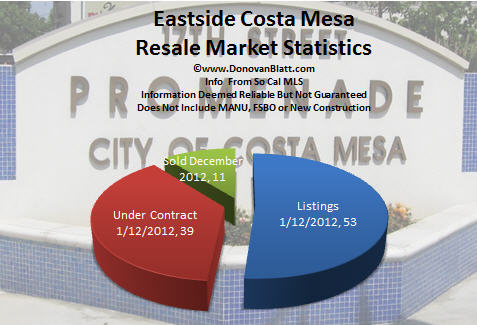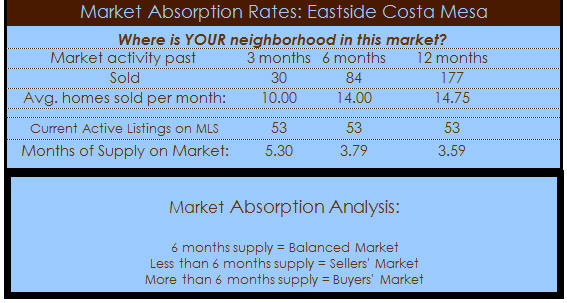 Although Eastside Costa Mesa is still experiencing a seller's market and the number of homes for sale are down, so have the number of sales over the past few months.
If you are interested in selling or buying a home in Eastside Costa Mesa, call Christine Donovan at 714.319.9751.
See below for homes currently for sale in Eastside Costa Mesa.
We're sorry, but there's nothing to display here; MLS data service is not activated for this account.
Market reports for additional areas of Costa Mesa and nearby cities:
Copyright © 2012 by Christine Donovan, All Rights Reserved. Costa Mesa Real Estate News – Eastside Costa Mesa Market Report.